Need Insight and Analyze Smallworld Usage or System Performance?
functionality is used, for how long and how often? Do you want to know how many plots were made last month? Is your system is lagging, showing poor performance, hangs, has frequent tracebacks or even crashes? You don't know if it is worthwhile upgrading your entire Smallworld implementation to 5.x? Our tool can help and is fully in line with our tagline "Real Time Analytics, Data Visualization, Geospatial & Time Based Search".
The following is a list of use cases and situations in which Cliffhanger Insight proves to be a valuable tool:
Prevent crashes
Solve Performance Issues
Improve User Experience
Monitor GIS usage
Minimize Downtime
Optimize Database Size
Improve Server Utilization
Find bottlenecks
Optimize upgrades
Rather than guessing whether issues are Smallworld or Citrix or Oracle (PowerOn) related, Cliffhanger Insight helps you to make an informed decision!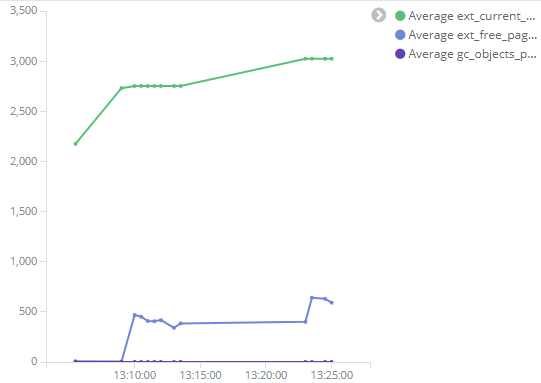 Smallworld System Information
In order to make an informed decision regarding Smallworld optimization, stabilization and usage, the following list outlines a subset of Smallworld system data that Cliffhanger Insight collects. This data is tagged with a user id, is timestamped and collected in real time:
memory usage
paging
extensions
garbage collects
thread information
uva statistics
Smallworld Usage
A Smallworld upgrade typically involves more than just recompiling existing code in to a new version. Just like with any major version, code needs to be reviewed for deprecated methods, "core changes" need to be reconciled and checked for compatibility (who hasn't done that?). It has always been one of the strengths of the Smallworld platform. But with the limited (or almost nonexistence) of available source code in version 5, this can be a daunting task. This is where Cliffhanger Insight can help as well.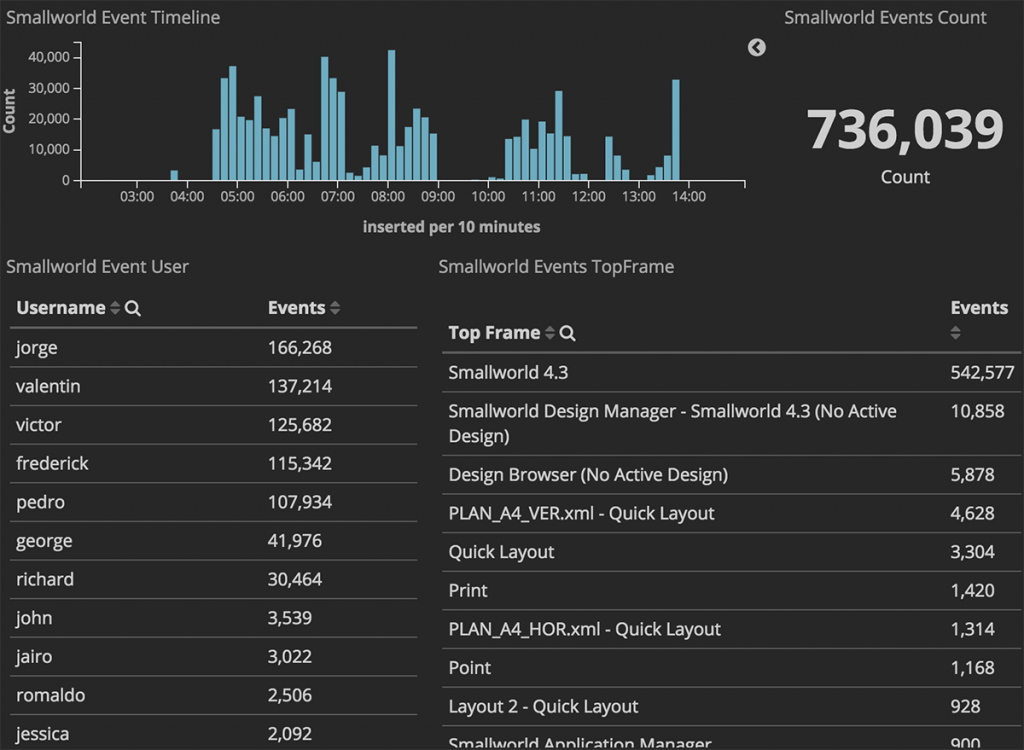 Cliffhanger Insight can easily be installed in the existing Smallworld application and ran for days, weeks, or even months. All collected logs from all users will then be used with an interactive dashboard to visualize and analyze usage, in real time! Here are some examples: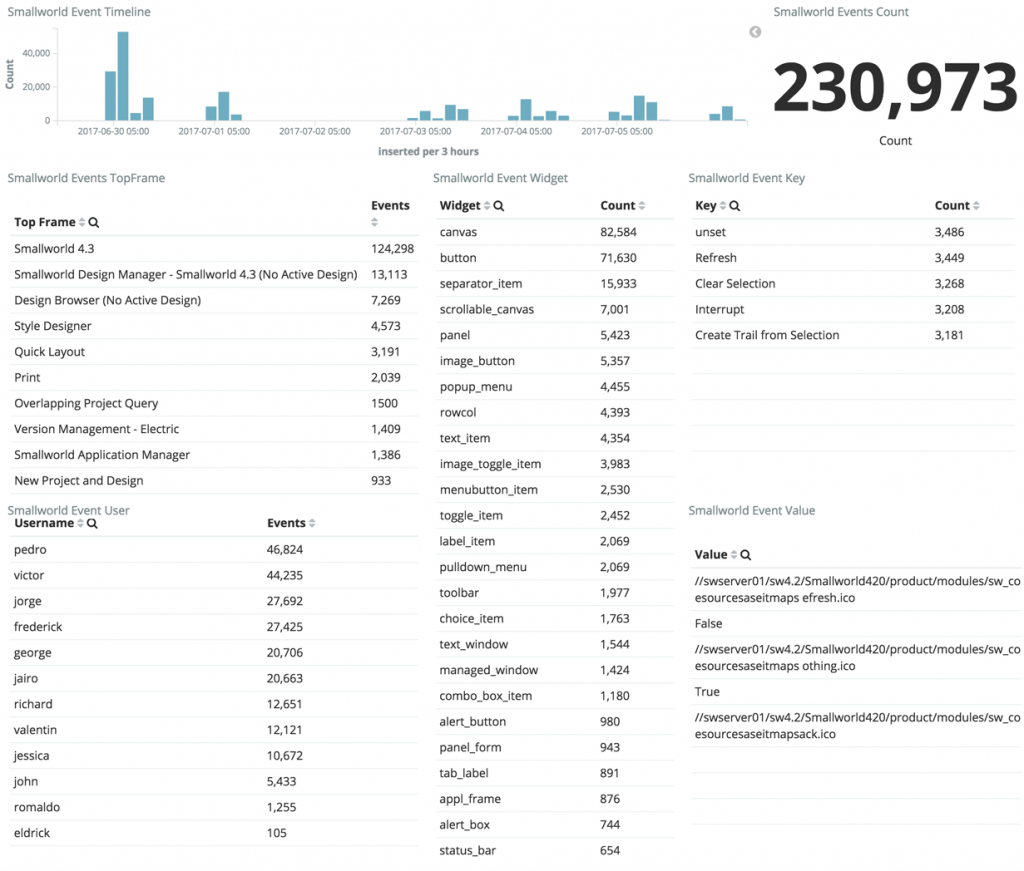 The top section shows a timeline and a total count of all "events," such as mouse clicks. On the left are all the menus and users. And in the center and right are details about those. This tool allows you to drill down to individual buttons and other UI elements by clicking one of the menus on the left, which will then act as a filter. In the same way, you can also isolate certain users, as well as zoom into certain time frames: "Who plotted an A0 sheet yesterday?".
When this is run long enough, one can reasonably assume that all functions users will ever touch, will be touched. Potentially a lot of upgrade effort can be saved by not upgrading the features that aren't used anymore.
Dashboard Configuration
Our dashboards can be easily configured using widgets, timelines and even life streams. There is no customization required. Once widgets with the required data are generated, they can be saved and pasted on to dashboards in any form, fashion or combination. Pie charts, bar charts, heatmaps, etc, are all available for use. See our screenshot page http://www.cliffhanger-solutions.com/products/atlas-screenshots/ for some more examples.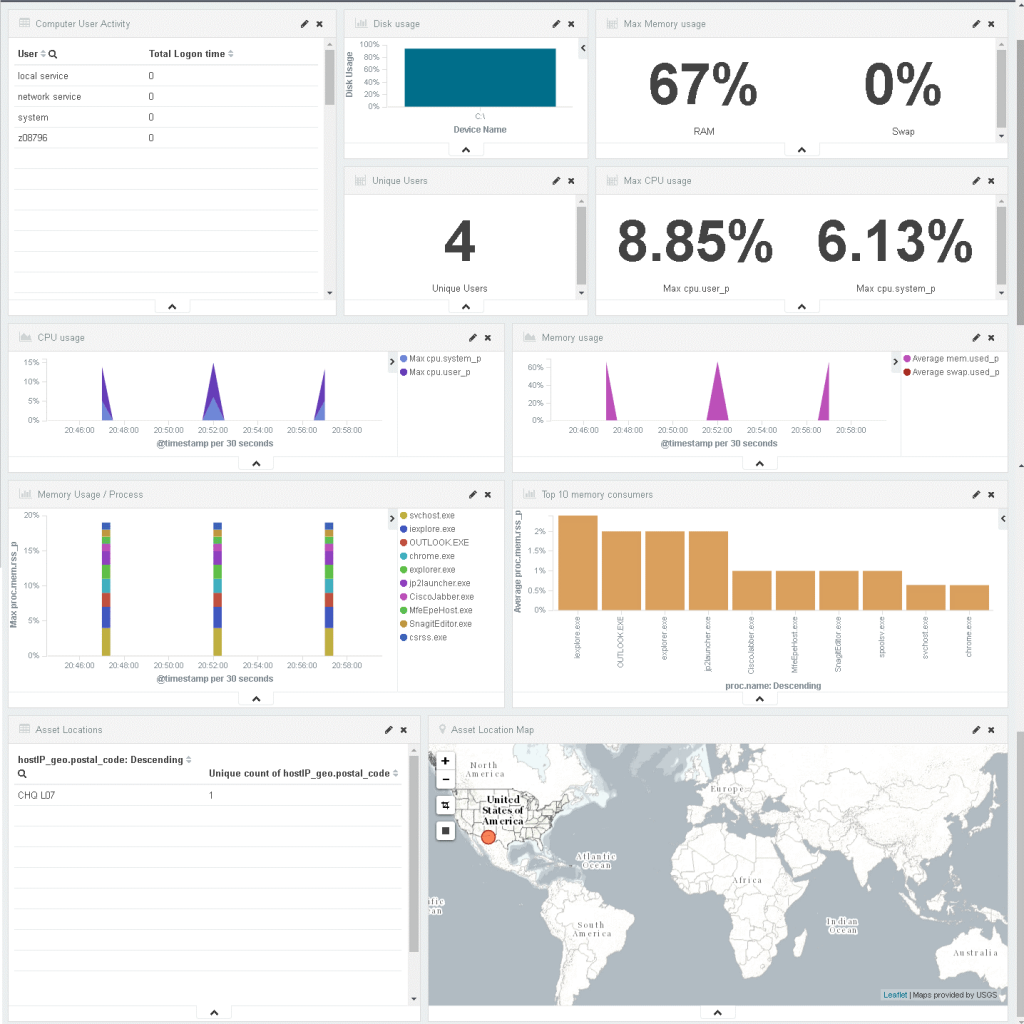 More than just GE Smallworld data
In addition to collecting GE Smallworld related data, Cliffhanger Insight can also be enabled to collect workstation and server data. CPU usage, Memory usage, inbound and outbound network traffic can all be monitored to aid in optimizing your Smallworld GIS experience. See the example screenshot below.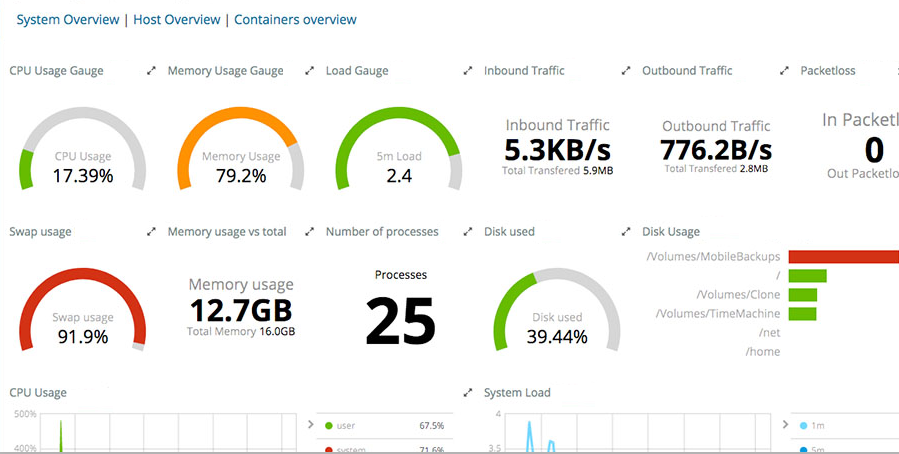 Add-On's
Extensive reporting tools and alert mechanisms can be configured. Our Machine Learning capabilities help in finding anomalies or predicting future issues. However, most of our customers have been able to accomplish what they need without them. Alternatively, gathered data could be fed into Predix.
Limitations
Cliffhanger Insight collects the majority of its data out of the GE Smallworld Image. Only functionality available via that image can be represented. If product changes or customizations limit the available data, Cliffhanger Insight's output will be limited as well.
Architecture
Cliffhanger Insight code is loaded into a Smallworld application as a module, which creates log files for each user in a central location (server). Additionally when parameters outside of Smallworld are required, a very light weight agent is installed on each server and/or desktop, producing similar log files. These log files are then processed in real time for consumption by our dashboards which are accessible through a web application. This page can be hosted on-premise or we can host it for you.