Happy New Year and New Beginnings!
Last year was a great year for Cliffhanger Solutions, and we have you to thank for it. This new year will be even better, as we are introducing a few new things:
This is our first newsletter! Our newsletters will deliver information about our company and our products, helpful tips, as well as information about the industry.
I am also excited to announce our newly redesigned website. Our website is easier to navigate, and is filled with useful information and links to some cool videos.
Webmaps for GE Smallworld is now available to make GE Smallworld easier to use and more productive – click here to find out more.
In case you missed it (ICYMI), we have recently announced Atlas for iOS – scroll below to read about it.
I hope you will enjoy reading our newsletter. Feel free to contact us and let us know your thoughts or requests for articles in future newsletters.
Happy New Year Everyone!

John Boere, founder & CEO
Cliffhanger Solutions Inc.
PS: Join me at the GE Americas Software Summit in Orlando, where I will be presenting – Scroll down to read more
---
Do you need dedicated GPS devices?
Our goal, as engineers, is to come up with ideas on how to do things better, more efficient, while saving cost at the same time. Several of our clients use GPS for fleet management. A GPS device is installed in (maintenance) trucks, and data is collected and visualized on some sort of dashboard application. In the same vehicles, they also use tablets running our mapping software.
This eliminates the use for a dedicated GPS device and all the associated back-end software, servers etc. And if you still want to use existing dashboards, simply use our platforms API to derive the data. One of the data sources is, you guessed it, is GPS. After some thinking we thought this was kind of silly: so we have a GPS device, sending data to a central location, which is then being 'downloaded' back into the trucks? But tablets and smart-phones (both Android and iOS) have GPS build in. And the App is already sending data back and forth. So it doesn't take a genius to realize that we can easily have the App to share its current location, to be shared an processed between users.
---
Pro Tip: Enable Clustering to Keep Your Maps Clean
Selecting lots of elements on the map might result in a large number of map markers. This can result in a difficult to read map. By turning on the cluster option, your map will always be clean and easy to read.
High density marker areas will automatically be grouped and color coded. Hovering over such cluster will reveal the area it is covering.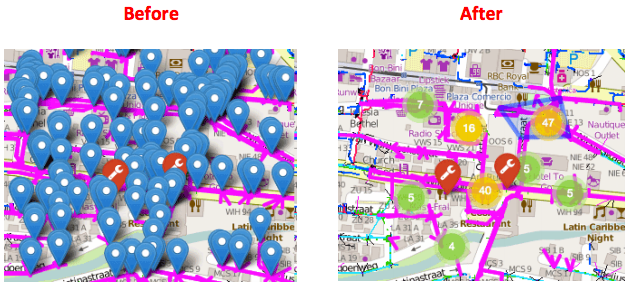 Clicking on a cluster will automatically zoom in to the selected area. As the density decreases more markers will show up. See the before and after picture. Note the blue polygon containing 47 elements.

See John Boere Presenting at GE's Americas Software Summit in Orlando, February 29 to March 4, 2016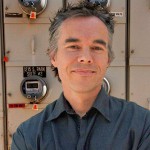 GE invited John, founder and CEO of Cliffhanger Solutions, to present at their Americas Software Summit. This annual summit is a place where customers, partners, and GE staff share firsthand experiences and success stories. They also attend to learn about the latest software developments and innovations across the full spectrum of software solutions for the electric, gas, telco, and water industries and about mobility solutions for all these industries.
John will be explaining how using Search can drastically streamline your operations by preventing outages, reducing outage times, improving customer service, and thus helping your bottom line.
More Specifically, John will explain that the grid isn't smart until you find an efficient way to analyze its vast amounts of data. Data is being collected from a variety of systems such as SCADA, OMS, AMI and GIS. The root of the problem is that all this data is in its own data silos, making collaboration much more difficult, both from a technical and organizational perspective. The end result is increased outage times and lower customer service. What we need is an effective mechanism to search and analyze across all these incompatible datasets, preferably in real time. In his presentation, he will show you how we have done that.
How We Made Our New Year's Card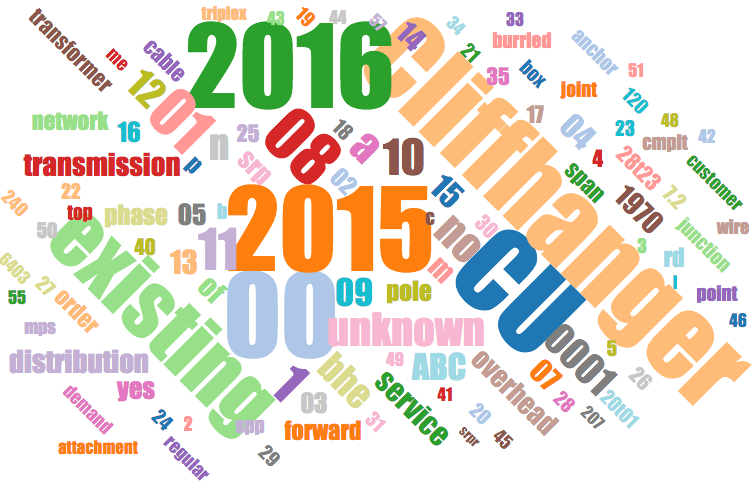 How did we make our new year's card? It is compiled from data from our own search indices. We did a wildcard search across a sample of about 30GB of search index. We then counted and sorted by the number of occurrences for each term, keeping the top 250 terms. This can all be done in 1 operation. Try doing this in a relational database. You would have to do a select on each column for each table and then tokenize each field (to get the individual words), then count and sort. This will take forever. In our case it took about 9s to run and parse the 30GB. It should be noted that we removed some 'stop words' such as 'the' and 'and' as well as potentially customer specific data such as names. We also added more weight to '2016' and 'Cliffhanger' for better presentation.
Finally we fed all the terms to a Javascript word cloud widget showing each term sized by importance (number of occurrences) sprinkled randomly on the card with some fun (random) colors.