GIS solutions are often plagued by lengthy implementation times. This is especially true for implementations with a mobile component, such as Mobile GIS, Inspections, Surveys and Damage Assessment applications. As a result, Utilities not only face significant vendor cost, but additionally, it ties up internal resources. User training? Atlas is so intuitive (we made a significant investment to not only make Atlas pleasing to the eye, but also very easy to use) that minimal training (if any) is required.
Unlike some other vendors, Cliffhanger's Atlas solution can be implemented and rolled out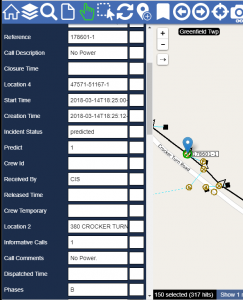 within days of obtaining access to the data. For one particular utility, we were able to setup an inspection application within hours (using their own data during a live demo). All the while another vendor was unable to deliver for months so we were asked if we could this faster so their crew could do their job more efficiently without further delay.
We guarantee to get your organization up and running -on your own data- within a week (at the very most). If you are a Smallworld customer using PowerOn then this will include live Outage data as well. We can host on-premise or we host for you.
Contact us for more information or a brief demonstration!
PS: The image above shows GIS data from GE Smallworld, live Outages and crew on location working these Outages. The image to the right shows some of the Outage detail.