Do you need to have a better insight into your GE Smallworld usage? Do you want to know what functionality is used, for how long and how often? Do you want to know how many plots were made last month? Is your system is lagging, showing poor performance, hangs, has frequent tracebacks or even crashes? You don't know if it is worthwhile upgrading your entire Smallworld implementation to 5.x? Our tool can help and is fully in line with our tagline "Real Time Analytics, Data Visualization, Geospatial & Time Based Search".
The following is a list of use cases and situations in which Cliffhanger Insight proves to be a valuable tool:
Prevent crashes
Solve Performance Issues
Improve User Experience
Monitor GIS usage
Minimize Downtime
Optimize Database Size
Improve Server Utilization
Find bottlenecks
Optimize upgrades
Rather than guessing whether issues are Smallworld or Citrix or Oracle (PowerOn) related, Cliffhanger Insight helps you to make an informed decision!
Smallworld System Information
In order to make an informed decision regarding Smallworld optimization, stabilization and usage, the following list outlines a subset of Smallworld system data that Cliffhanger Insight collects. This data is tagged with a user id, is timestamped and collected in real time.
Smallworld Usage
A Smallworld upgrade typically involves more than just recompiling existing code in to a new version. Just like with any major version, code needs to be reviewed for deprecated methods, "core changes" need to be reconciled and checked for compatibility (who hasn't done that?). It has always been one of the strengths of the Smallworld platform. But with the limited (or almost nonexistence) of available source code in version 5, this can be a daunting task. This is where Cliffhanger Insight can help as well.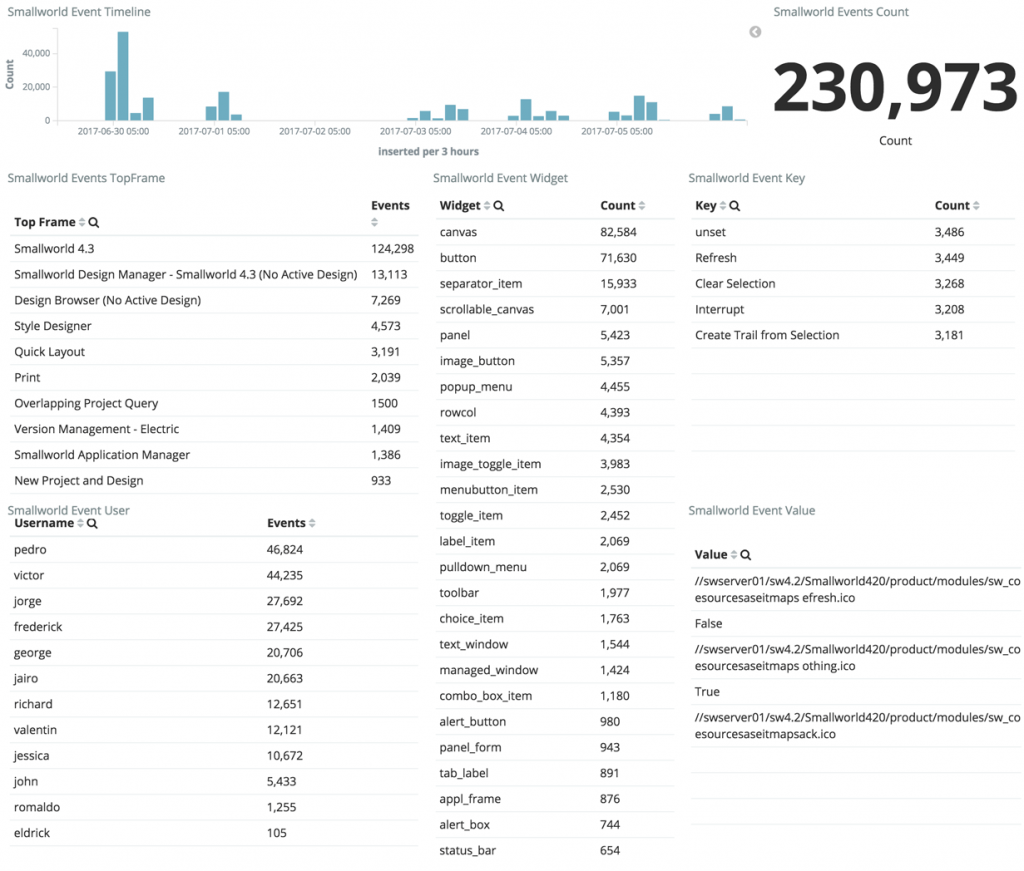 More than just GE Smallworld data: System Data
In addition to collecting GE Smallworld related data, Cliffhanger Insight can also be enabled to collect workstation and server data. CPU usage, Memory usage, inbound and outbound network traffic can all be monitored to aid in optimizing your Smallworld GIS experience.
Add-On's
Extensive reporting tools and alerts can be configured. Machine Learning helps in finding anomalies or predicting future issues. Alternatively, if you insist, gathered data could be fed into Predix.